Flight Instructor & G/A Jobs
Applications have closed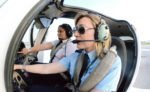 Website L3 Commercial Aviation
DCFI (Cranfield)
This great opportunity has arisen with an internationally recognised and rapidly expanding, fast-paced airline pilot training and resourcing organisation.  With Crew Training Centres strategically positioned globally, a highly qualified management, training and assessor team and our investment in state-of-the art technology, our services are utilised by airline partners worldwide and our delivery standards are the envy of many other aviation support providers the world over.
The role is required to promote, develop and maintain the highest standards of Basic Training delivery in accordance with current approved syllabi. To strive at all times to maintain the Company's image and reputation as a world leading supplier of the highest quality of aviation training and instil within trainees a professional approach to personal development and best aviation practice. As Deputy Chief Flight Instructor, you will manage flight instructors and deputise for the Head of Training – UK Training Centres when required.
Main responsibilities:
Responsible to the Head of Training – UK Training Centres to assist with the delivery of the flying training programme at Crew Training Centre – Cranfield.
Responsibility for trainee performance management, with particular responsibility for Modular Trainees.
Promote and maintain Flight Safety and Health, Safety and Environmental (HS&E) best practice as it applies to the effective delivery of the training programme.
Work constantly with all members of the training team to maintain flying standards and discipline.
Conduct flight instruction of MEP class rating, ME-CPL, BIFM and PIFM (ME-IR) modular syllabuses and Wings integrated and MPL syllabuses.
Undertake other tasks that from time to time a DCFI could reasonably be expected to undertake.
The ideal candidate will have:
An extensive training background
Significant training management experience
Experience of working with the UK CAA and EASA
Ability to work in a high pressured and dynamic environment
A "can do" attitude and able to operate and make decisions in a high pressure business environment
Excellent management and communication skills with a proven track record of successfully leading a team
Strong Customer-focused and Customer care skills
Strong report writing skills
Self-motivated
Flight Instructor experience
Ability to adapt learning styles and differentiate between trainees
Ability to manage teams of flight instructors
To apply: If you can demonstrate your qualifications, knowledge, skills and experience match our requirements, we'd like to hear from you.  Apply to careers.cts@l3t.com
L3 CTS is an equal opportunities employer and positively encourages applications from suitably qualified and eligible applicants regardless of their background.
https://www.flightdeckfriend.com/wp-content/uploads/2019/06/flight_instructor_cadet_us.jpg
1173
1920
https://www.flightdeckfriend.com/wp-content/uploads/2019/07/FDF-Logo-2.png
2019-06-15 16:51:53
2019-07-15 00:55:50
L3 - Deputy Chief Flight Instructor - Cranfield