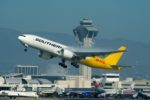 Website Southern Air
Southern Air is currently looking for B777 Non Type Rated First Officers to provide safe and efficient operation of aircraft in accordance with FAA and Southern Air requirements. Crewmembers will be required to travel worldwide.
Responsibilities:
Responsible for the safe conduct of the flight crew, cargo and flight. Ensure compliance with FAA regulations, ETOPS, RVSM and company policies. Maintain a thorough knowledge and adherence to the General Operations Manual (GOM), Operational Bulletins, FARs flight Procedures and other instructions pertinent to the crewmembers duties.
Minimum requirements:
FAA Multi-Engine Airline Transport Pilot Certificate or Restricted Multi-Engine Airline Certificate
Current FAA First Class Medical Certificate
FCC Radio LicenseMinimum 2000 hours of total time
Minimum of 500 hours turbine -or- 1500 total time and graduate of a 141, 142, or a U.S. Military training program and holds a SIC/PIC type rating in a turbojet aircraft
High School diploma or equivalent required; Bachelor Degree preferred
Commercial MEL INST Airplane required
DOT/ TSA and FAA required pre-employment checks must be completed
Crewmembers will be required to work 20 consecutive days a month
Legally authorized to work in the United States
Current passport holder with no restrictions on international travel
Has the ability to pass a 10 year security background check and a DOT pre-employment drug test
500 hours in a large MEL airplane, over 41,000 pounds preferred
Southern Air is an equal opportunity employer. All employment decisions are made without regard to race, color, age, gender, gender identity or expression, sexual orientation, marital status, pregnancy, religion, citizenship, national origin/ancestry, physical/mental disabilities, military status or any other basis prohibited by law. AA/EOE, M/F/D/V
https://www.flightdeckfriend.com/wp-content/uploads/2017/05/Southern_Air_Boeing_777F_N774SA.jpg
2307
3461
https://www.flightdeckfriend.com/wp-content/uploads/2017/05/FDF-Logo-2.png
2017-11-22 06:00:07
2017-11-22 00:17:57
Southern Air Non-Rated First Officers