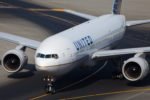 Website United Airlines
United Airlines are currently recruiting First Officers (Co-Pilots) onto non-specified fleets.
Overview:
A United pilot is a member of the flight crew who is responsible for the safe, comfortable, on-time and efficient operation of the aircraft. A pilot flying as captain is the pilot-in-command and the final decision-making authority regarding the operation of the aircraft, although it is the responsibility of the first officer to contribute to the decision-making process. The captain represents United as the onsite leader responsible for the safety and welfare of the crew and passengers, while also promoting a favorable image of United in accordance with company policies.
Certification requirements:
Unrestricted FAA Airline Transport Pilot (ATP) certificate with airplane multiengine class rating
Current FAA first-class medical certificate
FCC Restricted Radiotelephone Operator Permit (RR)
Flight time requirement:
Minimum of 1,000 hours of fixed-wing turbine time
General requirements:
Current, valid passport
Legal right to work in the United States
High school diploma or GED equivalent
Bachelor's degree from accredited college or university is preferred
Reliable, punctual attendance is an essential function of the position
https://www.flightdeckfriend.com/wp-content/uploads/2017/06/United-Airlines-B777.jpg
3241
4861
FlightDeckFriend.com
https://www.flightdeckfriend.com/wp-content/uploads/2017/05/FDF-Logo-2.png
FlightDeckFriend.com
2017-06-15 16:50:28
2017-06-15 14:28:49
United Airlines First Officers