Air France Pilot Recruitment
Low Hour Pilot Jobs
Applications have closed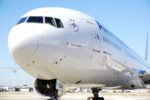 Website Air France
Air France continue their recruitment campaign for Non-Rated First Officers (Pilot Officers of the Line). Is it thought they need to recruit in the region of 250 pilots a year for Mainline, Transavia and Joon which is scheduled to be amalgamated back into Air France in June this year.
Several conditions must be met when applying:
Be the holder of the ATPL or a valid CPL/IRME.
Be the holder of the ATPL Theory issued by an ATO certified by a Member State of the European Union.
Have a valid "Class 1" medical certificate.
Nationality conditions, which you can view by clicking here
Be fluent in French.​
Not having failed in training with Air France or Transavia
Not having postponed twice or more selection for PSY Air France
To be eligible for invitation to a selection day, you must:
Hold a certificate of satisfactory attendance for a multi-crew cooperation training course (MCC)
Provide proof that you are at Level 5 or above on the language proficiency system: valid FCL 055 / 055D.
Have a TOEIC Test score (LR = Listening and reading) of 850 or above, no older than 2 years at the time of selection.
The Selection Process:
These are completed in 4 stages:
Psycho-technical tests
Personality inventories
Group tests and interview
Flight simulator test
Applications are online.
https://www.flightdeckfriend.com/wp-content/uploads/2017/06/Air-France-777-1.jpg
4000
6000
https://www.flightdeckfriend.com/wp-content/uploads/2019/07/FDF-Logo-2.png
2019-05-03 12:00:52
2019-08-01 00:55:40
Air France Non-Rated First Officers