BMI Regional Pilot Recruitment
Latest Pilot Jobs
Applications have closed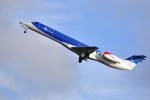 Website bmi regional
bmi regional are seeking to recruit Direct Entry Captains with ERJ 135/145 type rating preferable.
As a bmi captain your goal will be to provide the very best flight experience possible for our customers. You'll be joining bmi at an exciting time, with expansion on the horizon in the near future and we want you to come and share in our continued success as we grow and develop. Your job will be challenging and you'll be expected to perform to the highest standards in the aviation industry. Join one of the most progressive regional European airlines and be part of a dedicated team where every working day is different.
The best in the European Aviation
We don't just recruit talented pilots, we're looking for ambitious, proud professionals committed to exceeding expectations. You'll be the face of bmi and will be proud to lead a superb customer-centric operation where safety is the main priority. We'd expect you to be highly flexible and be able to demonstrate a positive approach.
Fly our fleet of Embraer jets
bmi has a fleet of 19 aircraft – 15 Embraer 145 jets and four Embraer 135 jets. We operate over 400 scheduled flights a week across a network of 43 destinations in 10 European countries. In addition, we also operate an extensive ad hoc charter business and fly on a contract basis on behalf of other carriers. Our scheduled network includes Oslo and Stavanger in Norway; Brussels in Belgium; Esbjerg in Denmark; Nantes and Paris in France; Brno in Czech Republic; Frankfurt, Dusseldorf, Hamburg, Nuremberg, Rostock, Munich, Saarbrücken and Stuttgart in Germany; Milan Malpensa, Milan Bergamo, Bari, Bologna, Florence, Venice and Verona in Italy; Lublin in Poland; Jonkoping, Norrkoping, Gothenburg and Karlstad in Sweden and Aberdeen, Birmingham, Bristol, Derry, East Midlands, Edinburgh, Glasgow, Inverness, London Heathrow, London Stansted, Manchester and Newcastle in the UK. bmi also fly to many ad hoc destinations in countries such as Russia, Spain & the Canary Islands, Israel and Iceland.
In addition, looking towards the future, we have aspirations to enhance and upgrade our current fleet.
What are the benefits?
As we continue to grow adding new routes to our network, we have opportunities for Direct Entry Captains with ERJ 135/145 type rating preferable, to join us at various bmi bases. To qualify you need an impressive training record, commitment, dedication and the ability to work within our dynamic environment. bmi is looking for driven individuals who have a passion to provide industry defining standards of customer service in a demanding yet exciting environment. You'll be expected to work flexibly within a growing team to deliver our 24/7 operation and you'll operate our flights throughout Europe (overseas night stops will be part of your roster).
In return, bmi will offer you a competitive package including:
A permanent contract: full terms and conditions which are effective from your first day of employment
Company funded conversion course/type rating
Medical and licence renewals paid by bmi
First class training and career progression
Extensive worldwide staff travel benefits with most major carriers
Loss of Licence insurance policy
38 days annual leave (including 8 days in lieu of public holidays) increasing upon qualifying length of service
Company pension scheme
Life assurance benefits
Private health cover
A competitive salary with yearly incremental increases
What are the requirements?
Must hold full EASA ATPL, preferably issued in the UK. Certificates must be presented at interview or before employment commences
Preferable ERJ 135/145 type rating
A minimum of 3500 hours with at least 500 hours jet or 1000 hours turbo-prop command achieved within a multi-crew system.
You must be in possession of a valid EASA Licence on commencement of employment with the Company; any costs incurred in meeting this requirement is down to you
Applicants will need to apply to the Disclosure & Barring Service in order to obtain an airside security pass; failure to obtain a pass will invalidate any offer of employment. Arrangements for obtaining this pass will be confirmed to you under separate cover
Prior to employment you will need to provide full and comprehensive personal and employment references covering the last 5 years; details of referees will be requested by the Company
Must live within 90 minutes travelling distance from the assigned base
Level 5 English language proficiency
Applicants must have the indefinite right to live and work in the UK
You will be issued with a Health Assessment form; the offer is conditional on satisfactory review of this by our Company Doctor
A high standard of physical fitness and visual acuity of 6/9 in each eye, aided or unaided
Immaculate appearance
You must be in possession of a valid EASA Class 1 medical category with at least 6 months validity remaining on commencement of employment. Any costs incurred in meeting this requirement are for your own account
You must hold a full valid driving licence and provide the Company with a copy of your photo ID licence documentation
What hours do flight crew work?
The length of your working day will vary, depending on how many sectors you are rostered to complete. The number of sectors may vary and is dependent on the length of the flight. Your working day may be affected by delays or changes to your flights. However the company strictly complies with the limits imposed by EASA as a minimum in relation to flying hours as well as adhering to the working time regulations.
How do rosters work?
Flight crew are given a roster four weeks in advance. Duty days will vary between early starts and late finishes. The number of sectors worked may include standby duties either at home or at the airport. Crew must be contactable either by a landline or a mobile telephone and be able to report for your duty (i.e. the crew room) within 90 minutes of receiving the call from the crewing department. The time off work will inevitably vary and you should expect to work weekends, Christmas and bank holidays as the airline operates 365 days of the year. Published rosters may change due to operational requirements.
Where are the bmi bases?
We currently have flight crew based at the following airports:
Aberdeen
Brussels
City of Derry
Bristol
Newcastle
Munich
Karlstad
Applications are via email with CV and Covering letter.
https://www.flightdeckfriend.com/wp-content/uploads/2017/04/BMI-Regional.jpg
2848
4289
https://www.flightdeckfriend.com/wp-content/uploads/2017/05/FDF-Logo-2.png
2018-05-16 12:00:05
2018-07-01 00:55:40
bmi regional Non-Rated and ERJ 135/145 Rated Direct Entry Captains