Ground Based Jobs
Monarch Airlines Pilot Recruitment
Applications have closed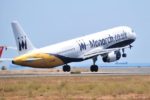 Monarch Airlines
Department Description
Monarch is the UK's longest-established, privately owned airline group and a great place to develop your career. The company includes a scheduled airline, in-house tour operator and an award-winning engineering division.   Flying from 5 UK bases, London Gatwick, Birmingham, Manchester, Leeds-Bradford and Luton where it is headquartered; the airline offers 7 million sector seats to leisure destinations.   With a strong heritage, the tour operating division offers package holidays across the airlines scheduled network focussing on beach, city and ski breaks.
Brief Description
This is a dual function role, operating on an 8 week working pattern, based alternately in the Integrated Operations Centre (IOC) and actively out in the operation at overseas destination airports. Responsible to the Overseas Performance Manager, the Ground Ops Officer is a critical role in the consistent delivery of all Ground Operations & Airport Customer Service functions. The role holder will be expected at all times to proactively represent the Ground Operations department and all associated functions.
Detailed Description
Operating in a dual capacity will require the role holder to have significant operational understanding of all aspects of Ground Handling and Customer Service.
The IOC function involves working on a days & nights shift pattern, supporting the airline H24 operations centre, and is responsible for monitoring day-to-day progress of the flying program and providing consistent support & communication to all Ground Handling Agents and 3rd party suppliers in the UK and Overseas. A key accountability is ensuring that proactive communication regarding disruption and changes to the flying program is shared with suppliers and internal and external customers. This includes managing customer welfare, in line with EU261 regulations, in the event of flight delays and disruption.
Working out in the live operation, they will be expected to ensure that superior Customer Service is delivered at every airport touch-point of the customer journey. In addition they will be responsible for the safe, secure and efficient operation. Supported by the Monarch Ground Handling Agents, other 3rd party suppliers and airport authorities, key accountabilities will be customer advocacy/satisfaction regarding on-time performance, the airport experience, airport ancillary & retail revenue sales and managing customer disruption.
The role holder will demonstrate exemplary/positive behavioral skills to not only achieve but to continuously improve both the customer service experience, on time performance objectives and operational efficiency. Capable of accurate communication, timely decision making, influencing and challenging the status quo are skills vital to the delivery of this role.
The expectation is for a flexible approach to working hours to manage the key objectives of the role, including shift work, weekend working and extensive travel to overseas airports, which may include overseas detachments, in line with Monarch peak operational periods.
Quality, Safety & Compliance
A good working knowledge of airline and local standard operating procedures.
Ensure robust compliance monitoring is in place for Front of House and Airside activities, such as queue times; baggage delivery, cleaning, catering, de-icing etc.
Support activities to build/maintain "Just Culture" around safety reporting.
Ensure any non compliance is raised with relevant 3rd party supplier / airport operator.
Airport Operational Performance & Customer Service
Monitoring the delivery and ongoing performance management of Airport Front of House Performance & Customer Service:

Check in & queue management, including local Monarch branding
Boarding process
Arrivals – baggage delivery
Flight Disruption Management
Maximizing airport ancillary & retail revenue
Work in partnership with the Monarch Travel Group/Airport/GHA to deliver Superior Customer Service.
Deliver, train & coach Monarch product knowledge, WorldHost Customer Service & NewSkies training to airport service providers as required.
Responsible for operational performance relating to:
Airside/Ramp Ground Handling; e.g. turnaround performance, baggage delivery, baggage reconciliation
PRM supplier
Catering Operations
Cleaning and Aircraft Presentation
Liaise with local airport management teams to ensure delivery of customer service, on time performance and safety compliance KPI's
Provide the Overseas Performance Manager with detailed revenue, customer service, operational and safety compliance KPI's
Implement robust processes to monitor/ record overseas travel, accommodation etc.
Accountability for delivery against airport ancillary & retail revenue targets
Actively seek out ways to improve cost efficiency
Integrated Operations Centre / Ground Ops Liaison
Monitor the progress of the daily flying program in conjunction with the IOC Duty Operations Managers:
Anticipate the impact to Ground Handling Agents, airport authorities and other service providers
Provide advance notice/instructions as necessary to airport service providers to protect customer service and network integrity
Provide primary point of reference for all agent and customer enquiries within the airport environments:
Conditions of carriage
Medical requests
Immigration requests etc
Ensure accurate and timely communication to:

Internal and external customers
Ground Handling Agents
Other 3rd party suppliers

During disruption proactively manage, communicate and coordinate customer communication
Letters
15 below
SMS texts
Liaise with Monarch Social Media teams
Manage and issue customer welfare in liaison with the Ground Handling Agents & tour operators in accordance with EU261 regulations.
Provide the Overseas Performance Manager with detailed welfare reporting to monitor/record EU261 welfare expenditure for disrupted flights.
Job Requirements:
Knowledge:
Proven record of delivering high customer service and quality achievement
Detailed understanding of Ground Ops airside activities
Proven record of delivery against revenue and cost saving targets
Airline/Airport operational knowledge  
Skills:
Strong influencing and interpersonal skills.
Excellent communication skills, verbal and written.
Competent in Microsoft Office Applications (Word, Excel, PowerPoint, Outlook)
Highly motivated, hard working, excellent reasoning ability.
Strong planning and motivational skills.
Effective under pressure.
Able to deliver clear objective results.
Ability to lead/coach external suppliers.
Ability to dissipate customer anxiety
Experience/Education:
Proven experience in airline/airport ground operations
O-Level / G.C.S.E – English / Math's
Foreign languages (Spanish/Portuguese/Italian) would be advantageous  
Competencies:
Communication;
Approachability;
Customer Focus;
Effective planning;
Building effective teams;
Motivating others;
Timely decision making;
Results Driven.
Additional Details
This is a permanent full-time role
https://www.flightdeckfriend.com/wp-content/uploads/2017/05/Monarch-Airlines-A321.jpg
564
849
https://www.flightdeckfriend.com/wp-content/uploads/2017/05/FDF-Logo-2.png
2017-08-03 16:00:19
2017-08-19 00:55:36
Monarch Airlines Ground Operations Officer