Latest Pilot Jobs
Titan Airways Pilot Recruitment
Applications have closed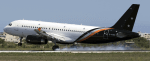 Titan Airways
Titan Airways are looking for Rated A320 Captains.
MEETING THE HIGH EXPECTATIONS OF DIFFERENT GROUPS OF PEOPLE IS THE DAILY CHALLENGE FOR TITAN AIRWAYS FLIGHT CREW.
As one of Britain's fastest growing and prestigious airlines, their business serves many of Europe's leading companies and many of the world's major airlines and their clientele.
They are looking to recruit professional individuals who share a passion for excellence and are willing to go the extra mile to provide the highest level of customer care and service.
To meet their exceptional standards you need to be customer focused, possess excellent communication skills, display flexibility and maturity and have the ability to converse with their clientele at all levels.
If you believe that you possess these qualities, they will offer you variety of flying, a competitive salary and other benefits.
Applicants must be able to drive/own their own car and be prepared to be within 30 minutes of base on a standby duty.
Minimum Requirements:
EASA ATPL
Current Class One Medical
Minimum 4000 hours total time, with 500 command hours
Current A320 series type rating with a minimum 1000 hours on type
Language proficiency level 5 or 6
PERMANENT FULL TIME AND FIXED-TERM FULL TIME CONTRACTS AVAILABLE
If shortlisted, interviews (and sim if successful at interview) will be held throughout the winter with staggered start dates commencing early 2018. Applications are online. Closing date 8th March!
https://www.flightdeckfriend.com/wp-content/uploads/2017/04/Titan-Airways-Banner.png
1512
3692
https://www.flightdeckfriend.com/wp-content/uploads/2017/05/FDF-Logo-2.png
2018-03-08 12:00:21
2018-03-10 00:55:44
Titan Airways A320 Rated Captains