Low Hour Pilot Jobs
Wizz Air Pilot Recruitment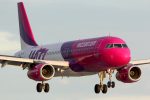 Website Wizz Air
Wizz Air continue to recruit Cadet First Officer onto their A320 fleet.
Source: https://wizzair.com
Now it's your livelihood, and that means you want a stable job with a financially sound company. WIZZ is one of Europe's fastest growing airlines (listed on the London Stock Exchange) and flies between 44 countries and more than 140 destinations, with a constantly growing fleet of more than 100 Airbus aircraft (A320 and A321). The airline is set to operate with 300 aircraft in 10 yearswhich will carry 100 million passengers per year, based on a remarkable number of 30 million passengers carried last year.
WIZZ offers a number of benefits that set us apart from other carriers. Some of the most appealing to our crew are the opportunity to fly from your home city, on a young fleet, while being able to choose from a wide variety of rosters for a healthy work-life balance. We offer the opportunity for rapid career advancement throughout the flight operations department: from First Officer to Senior First officer, then Captain to Line Training Captain and finally Type Rating Instructor or Examiner.
Minimum Requirements:
Minimum 300 hours aircraft flying time
Minimum EASA/JAR FCL1 CPL with ATPL theory knowledge completed or Macedonian/Serbian/Ukrainian equivalent
Last flight within preceding 6 months (SEP or MEP)
Valid and current ME-IR
A valid MCC certificate and course program
A valid JOC certificate and course program
Minimum ICAO level 4 English Proficiency
Applications are online.
https://www.flightdeckfriend.com/wp-content/uploads/2016/12/Wizz-Air-A320-1.jpg
2996
4494
https://www.flightdeckfriend.com/wp-content/uploads/2019/07/FDF-Logo-2.png
2019-07-09 06:00:56
2019-07-09 07:10:21
Wizz Air Non-Rated Cadet First Officers