Latest Pilot Jobs
Low Hour Pilot Jobs
Applications have closed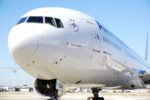 Website Air France
Air France pilots perform their role with the very highest level of flight safety, technical proficiency and a continual concern for delivering service excellence for passengers. As an Air France pilot, they thereby contribute to winning their trust and preference for Air France, JOON or Transavia.
If you have a real passion for flying, enthusiasm for the airline pilot profession and wish to join a company where men and women share this passion and take pride in working together, join us by submitting your application.
Joining Air France provides access to a modern and diverse fleet of over 250 aircraft, ranging from the Airbus A318 to the Airbus A380 and soon the A350, the Boeing 777, the Boeing 787 and the Boeing 737 within Transavia.
You will begin your career as an Air France pilot in the position of First Officer on the medium-haul fleet, and subsequently long-haul fleet before accessing the position of Flight Captain.
By building valuable expertise on a daily basis in one of the world's most varied flight networks, you will subsequently use your skills to serve the airline by taking up roles as airline pilot instructors or on supervisory assignments in the Flight Operations Division.
In 2018, Air France is offering airline pilot vacancies to meet its own requirements, and those of JOON and Transavia, under the Professional Pilot programme and has opened its Cadet Pilot programme.
Description of the mission:
Airline pilot is a very demanding job that requires a real passion for flying, enthusiasm and commitment, but also intellectual, psychological and physical skills. He also asks for good practice in English. . First and foremost responsible for passenger safety, the airline pilot is in charge of piloting, navigation, radio communications management and technical surveillance of the aircraft.
The pilots are divided into two categories: Captain (CDB) and Pilot Officer of Line (OPL). The Captain has authority over the entire crew and passengers. He / she makes all the necessary decisions, from the preparation to the closing of the flight. Its top priority is to ensure the safety and security of the flight. The Pilot Officer of the Line (or co-pilot) is second in the crew in the hierarchical order. The crew is always composed of a Captain and at least one Pilot Officer of Line.
Required profile:
YOU ARE ALREADY PILOT
To submit your application, you must build your file by clicking on the button: "I apply for this offer". Apply on this offer is the only way to apply. Applications sent by mail will not be processed. This step is essential regardless of your training program and your status: new candidate, candidate who has already submitted a file or who has already participated in a Pilot selection.
CONDITIONS FOR APPLYING:
To apply, several conditions are required: • hold a valid ATPL or CPL / IRME. • Hold the theoretical ATPL issued by an ATO certified by one of the Member States of the European Union. • have valid "class1" medical fitness. • conditions of nationality, which you can consult on the site http://www.developpement-durable.gouv.fr/-Pilotes-Navigants-.html • be able to express yourself fluently in the French language. • not having already been postponed 2 times in psy 2 to an Air France selection. • not having failed in training Air France or Transavia
For more information thanks to write us at email adress mail.cadets@airfrance.fr
To be able to be summoned in selection, you must:
• hold a satisfactory certificate of follow-up of a Crewing Training (CMC) • Have a level 5 or higher on the current language proficiency rating scale: FCL 055 / 055D. • Have a TOEIC Test score greater than or equal to 850, less than 2 years old at the time of selection. SELECTION TRIALS These take place in 4 stages: • psychotechnical tests • personality inventories • group tests and interview • flight simulator test.
Applications are online.
https://www.flightdeckfriend.com/wp-content/uploads/2017/06/Air-France-777-1.jpg
4000
6000
https://www.flightdeckfriend.com/wp-content/uploads/2017/05/FDF-Logo-2.png
2018-10-30 06:03:42
2018-12-02 13:41:03
Air France Non-Rated Pilot Officer of the Line (low hour)