Latest Pilot Jobs
tigerair Pilot Recruitment
Applications have closed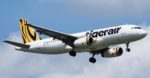 tigerair
Minimum Requirements:
Legally entitled to work in Singapore
A Civil Aviation Authority of Singapore issued ICAO ATPL (foreign ATPL will be required to undergo licence conversion which requires an instrument rating and a proficiency check that has a minimum of 6 months' validity.)
Total Flight Time of ≥3500 hours.
Minimum of 1,000 hours Pilot in Command (PIC) on multi-engine jet or turbine, civil registered transport aircraft certificated for multi-crew operation with a MTOW of 50,000kg or more
A320 Type Rating with a minimum of 500 Hours in command (PIC) on Airbus A320
Demonstrate the ability to speak and understand English with a minimum of ICAO Level 5 or above
Applications are online.
See our dedicated tigerair pilot recruitment page here.
https://www.flightdeckfriend.com/wp-content/uploads/2017/05/tigerair-singapore.jpg
606
1168
https://www.flightdeckfriend.com/wp-content/uploads/2019/07/FDF-Logo-2.png
2017-05-29 12:00:52
2017-06-24 00:55:46
tigerair Direct Entry Rated A320 Captains