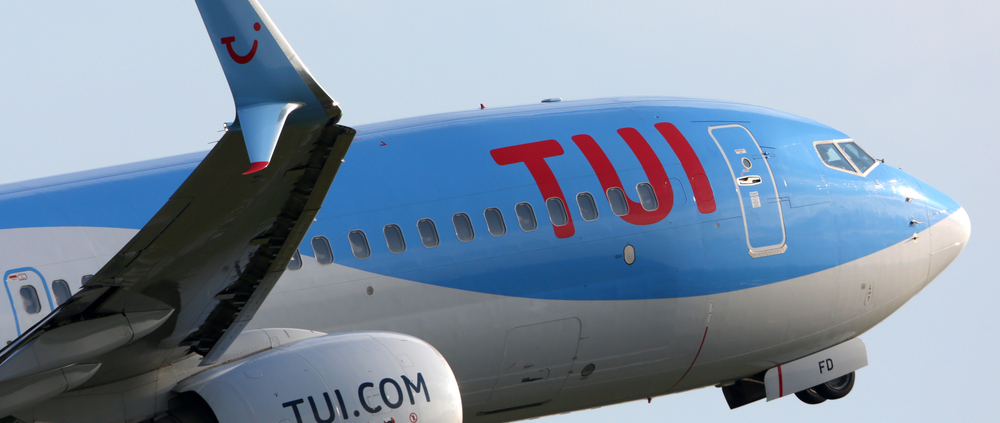 TUI Airline Multi-Crew Pilot Licence (MPL) Cadet Programme
TUI Airline Multi-Crew Pilot Licence (MPL) Cadet Programme
TUI Airways UK have opened their campaign for cadet pilots to complete an MPL with TUI. On successful completion of the training programme you will be offered a First Officer position at a UK base on their B737 fleet. The course start date is 4th September 2023. Info direct from TUI.
Description:
Embarking upon the 19 month TUI Airline Multi-Crew Pilot Licence (MPL) Cadet Programme is an exciting opportunity for those with little, or no, flying experience. You'll complete your training and eventually join TUI as a Cadet Pilot flying the Boeing 737. We're looking for candidates to be committed, resilient and hard-working, and will be rewarded with a dynamic and exciting career where each day is different. Together with your colleagues, you'll make sure that TUI customers have the best experience whilst travelling to and from their holiday helping them to 'Live Happy'.
We're looking for people with great communication and leadership skills, the ability to remain calm under pressure, resilience to work hard throughout a challenging course, motivation to learn and ultimately develop into highly skilled professional pilots.
We anticipate that we will receive a high volume of applications, therefore we recommend that you apply early to avoid disappointment. TUI reserve the right to close this role as soon as the required volume of applications have been received. Please visit our Careers webpage by clicking this link where you can review our 'Frequently asked Questions' and find out further information. 
About the job:
As an MPL Cadet Pilot you'll:
Have a genuine passion for aviation with a clear understanding of the TUI strategy and values (Trusted, Unique, Inspiring)
Have the mental capacity, drive and motivation to fully commit to your training for the duration of the course
Be resilient with the ability to manage stress effectively
Be a great team player and natural leader with excellent communication skills
Have a proven ability to make the right decision in any given scenario
With excellent customer service skills, you'll demonstrate a desire to deliver a great experience for our customers on every flight and ensure everyone sees us as the Best-Loved Holiday Company
Eligibility:
In order to apply for our MPL Cadet Programme, there are a few requirements that need to be met:
• Be at least 18 years of age on or before 1st September 2023
• Have at least five GCSEs including Maths, English and a Science at grade C/4 or above
• Be fluent in English (verbal and written) with ICAO Level 4
• Be eligible to live and work indefinitely in the UK without additional approvals
• Hold a valid passport which permits unrestricted worldwide travel
• Be at least 1.58cm (5ft 2in) tall
• Able to swim 25m
• Able to obtain a CAA issued Class 1 medical prior to commencing training (at your own cost) – click here for more information
• Before commencing training, complete referencing and pre-employment checks
Course Information:
The training for the MPL Cadet Programme is split into four separate phases (with each phase running consecutively):
Phase 1 – ATPL Ground School (Theoretical Knowledge Instruction)
During this phase you'll study the required theoretical knowledge and complete the 14 ground school exams.
Duration – 750 hours/26 weeks
Location – Remote Computer-Based Training (CBT) and virtual classroom learning (from your home location)
Phase 2 – Basic Flying Training
Basic flying training will be in a Robin DR401 aircraft owned by TUI and you'll complete approximately 62 hours of flying. During this phase, you'll also complete Upset Recovery & Prevention Training (URPT) in a CAP10 aerobatic light aircraft. This will be three hours of flight training.
Duration – 30 weeks
Location – Gloucestershire Airport (accommodation will be provided)
Phase 3 – Intermediate & Advanced Flying Training
This will take place in a B737 simulator where you'll operate in a multi-crew environment using TUI procedures from day one. You'll complete approximately 270 hours in the simulator, and this will include the completion of a type rating.
Duration – 22 weeks
Location – Gloucestershire Airport (accommodation will be provided)
Phase 4 – TUI Immersion Training
Run by our Learning & Development team, this is an opportunity to learn about the TUI business, and work in different business areas. At the end of the course, you'll be required to present improvement ideas back to the business.
Duration – TBD
Location – TBD
Funding:
No financial contribution is required prior to, or during training and, although you won't receive a salary whilst training, upon completion of training and joining TUI as a Cadet Pilot, you'll be paid a Cadet Pilot salary for four years. You will repay your training costs to TUI via salary sacrifice during this 4-year period. This salary is currently £32,867 (post deduction) and will increase in line with a pilot pay scheduling agreement.
The MPL Cadet Programme includes the following:
• All course and training costs
• All training and licence fees
• Accommodation from phase 2 onwards
• Uniform
• ATPL theory exam fees
• All required equipment such as manuals, iPad etc.
Cadets will be liable for:
• Initial Class 1 medical and subsequent renewals
• Personal travel
• Food and personal living expenses
Upon completion of training and joining TUI as a Cadet Pilot, you'll be paid a Cadet Pilot salary for four years, which will include repayment of training costs to TUI via salary sacrifice. This salary is currently £32,867 (post deduction) and will increase in line with pilot pay scheduling agreements.
Assessment Process:
The assessment process is split into six stages, and you'll be required to pass each stage in order to proceed to the next one:
Stage One
The first stage of the assessment process is submitting your application along with your CV. Your application will be reviewed by our recruitment team, and if you meet the criteria, you'll be invited to complete online assessments
Stage Two
This stage is a questionnaire and online assessments. The assessments include verbal, numerical, and logical reasoning tests. You'll have seven days to complete them.
Stage Three
The next stage is a one-way digital interview where you'll be asked to record yourself answering a series of questions. You'll have seven days to complete this stage. Your interview will then be reviewed by our recruitment team.
Stage Four
This will be an assessment day at our TUI Training Centre, where you'll complete a series of exercises followed by an individual interview with members of our recruitment team.
Stage Five
This stage is a flying test with our TUI Airline Training teams. This will be in a light aircraft where your pilot aptitude will be assessed. No previous flying experience will be necessary.
Applications are to be submitted online here.
Last Recruitment:
Recruitment anticipated:
Status:
Open
Apply Now
https://www.flightdeckfriend.com/wp-content/uploads/2022/12/TUI-B737.jpg
667
1000
Barry
https://www.flightdeckfriend.com/wp-content/uploads/2021/01/FlightDeckFriend-Main-Logo.png
Barry
2022-12-14 12:02:50
2022-12-14 12:08:30
TUI Airline Multi-Crew Pilot Licence (MPL) Cadet Programme