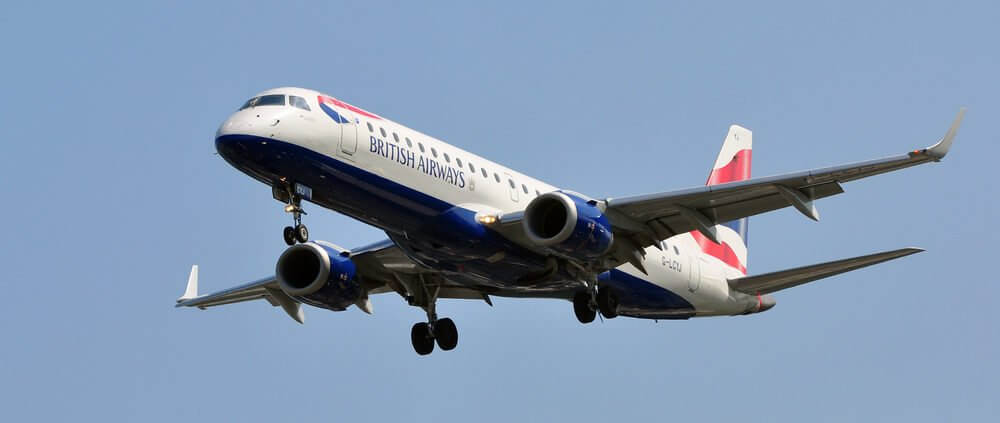 BA CityFlyer Cadet MPL Pilot Programme
BA CityFlyer Cadet MPL Pilot Programme
BA CityFlyer have launched their 2023 MPL Cadet Pilot Program in conjunction with FTEJerez. Successful candidates will go onto be based at London City Airport, operating the Embraer 190 aircraft. London City Airport is a very challenging and rewarding airfield to operate in and out of due to its close proximity to central London and 5.5 degree glideslope. Info about BA Cityflyer here. 
For this intake there will be 8 positions available.
The application window opens today (Monday 3rd of October) and closes on 16th October 2022. 
Captain Steve Cook:
Welcome to the British Airways Cityflyer Mentored Airline Pilot Scheme and MPL course. I am Captain Steve Cook, nominated person for Flight Operations and charged by the airline to manage this cadet programme.
This Mentored Scheme has been developed with our training partner, FTEJerez, to provide a source of quality preselected pilots to crew our Embraer aircraft. You will undertake training under the Multi-crew Pilots Licence (MPL) route to the right-hand seat of our aircraft. This course has been specifically designed to teach you all of the key elements necessary for you to successfully transition to a British Airways Cityflyer flight deck.
During your training in Jerez, your progress will be mentored throughout the course by the British Airways Cityflyer Liaison Pilot. As the final phase of this course, students will undergo an Embraer Type Rating course paid by the airline (excluding travel costs and accommodation).
Selection for this cohort will follow a similar format and battery of tests as in previous FTEJerez schemes. We are looking for a group of mentored pilots who will be offered positions on a course commencing training in Jerez in February 2023.
May I take this opportunity to wish you every success with your application and the selection process.
Requirements:
We are looking for high calibre, well-motivated individuals who are keen to be part of a team working for one of the most prestigious regional airlines.
To be eligible for this scheme you must have a minimum of 2 A-Level passes, Grade C or above (or equivalent), and have 5 GCSE passes including Maths, English and a Science subject at Grade C or above, as well as the right to live and work in the UK.
Cost of Course:
If successful, you will have to fund FTE's MPL programme. The Embraer Type Rating course will be paid by the airline (excluding travel costs and accommodation)
The price for this course is GBP 97,000.00
The price is inclusive of the following:
Full-board accommodation (3 meals a day)
FTEJerez cadet uniform (except shoes)
1st attempt, ground and flying exams
Renewal of the Class One Medical
All training material
Landing and navigation fees
No additional accommodation charge in the unlikely event of delay in training due to adverse weather
VAT
FTEJerez can assist with further advice on finance options.
Training progress:
Throughout the training, the British Airways Cityflyer cadet's performance will not only be monitored by FTE's training team, but there will also be an oversight by British Airways Cityflyer's assigned Liaison Pilot.
If successful throughout the training at FTEJerez, no further selection will be required by British Airways Cityflyer and you will flow straight into an Embraer type rating course as a part of the MPL training.
Selection timescale and travel:
Candidates will be able to apply between the 3rd and 16th of October 2022. When applying, you will be required to create a user name and password. With this information, you will be given access to a personal Candidate Area, where you can complete your application by uploading your documents.
Please note that the application must be completed within 3 days, counting from the first submission.
Should your application be successful in progressing to the next phase you will be required to complete FTE´s assessments in the UK and online. Should you reach the final element of the selection process, you will be required to travel, at your own expense, to British Airways Cityflyer´s offices at London City Airport. Currently, this one-day selection phase is expected to take place in late November / early December 2022.
Apply:
Applications are online and throughout the selection process, you will be advised as to whether or not your application has been progressed to the next stage. However, due to the large number of applications, neither British Airways Cityflyer nor FTEJerez will be in a position to give individual detailed feedback on your performance.
Last Recruitment:
Spring 2019
Recruitment anticipated:
Course commences Feb 2023
Status:
Open
Apply Now
https://www.flightdeckfriend.com/wp-content/uploads/2017/05/BACF-E190.jpg
664
1000
Barry
https://www.flightdeckfriend.com/wp-content/uploads/2021/01/FlightDeckFriend-Main-Logo.png
Barry
2022-10-03 11:11:10
2022-10-03 11:11:10
BA CityFlyer Cadet MPL Pilot Programme