British Airways CityFlyer Pilot Recruitment
Latest Pilot Jobs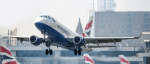 Website BA CityFlyer
BA CityFlyer Captain
Remuneration: £75,000 to £80,000 per annum
Role: Captain, Embraer 170/190
Contract: Permanent, full-time
Location: London, UK
The reward package comprises a basic salary, London allowance, hourly flight pay, company performance bonus and other payments. In addition, you'll receive:
Full terms & conditions that are effective from your first day of employment
Company-funded conversion course/type rating
Medical and license renewals paid by BA CityFlyer
Extensive British Airways worldwide staff travel benefits
Loss of License scheme
30 days of annual leave increasing to 35 days on completion of 5 years of service
Company pension scheme (up to 12% employer contribution)
Life insurance benefits
Career pathway into British Airways following minimum 2 years of service
Entry criteria
If you feel you have what it takes to join our committed and dedicated team, you will need to hold the following:
Valid (EASA/ICAO) ATPL
Current MPA rating on an aircraft in excess of 10 tonnes MTOM
Valid ME instrument rating
Valid Class 1 Medical
4,000 hours TT
1,500 hours PIC of civil/military, multi-crew/multi-engine aircraft in excess of 10 tonnes MTOM
Currently operating as Captain
E Jet type rating would be desirable although not essential
English language proficiency endorsement on your license to Level 4 or above
Our airline
"GROW WITH US – We want you to be part of our journey…"
BA Cityflyer is the leading airline bringing business and leisure customers into the heart of London via our main base at London City Airport. The drive to provide industry-defining standards of customer service in a demanding yet exciting environment is what we require of our high-calibre pilots. As a Captain at BA CityFlyer you will be expected to work flexibly within a growing and tight-knit team in order to deliver our demanding seven-day-a-week operation. Serving a mixture of business and leisure destinations throughout Europe, regular UK and overseas night stops will be a feature of your touring roster. Operating primarily from London City Airport, with its high-value and sophisticated customer base, we operate daily in one of the world's most challenging operating environments; therefore, our pilots are required to maintain the highest professional standards.
Due to a period of rapid expansion – which includes flying "Summer Sun" routes from Stansted and the arrival of our 20th Embraer on fleet – we are currently recruiting for Captains to join our team on a full-time, permanent basis. You'll fly a fleet of modern aircraft from our home at London City Airport – make it yours.
UK military pilots
If you are currently serving in the UK Armed Forces in a flying role or have recently exited military aviation, BA Cityflyer would like to hear from you. Please follow-up your application with an email to bacityflyer.ctcflexicrew@L3T.com detailing your experience, which can then be reviewed accordingly.
https://www.flightdeckfriend.com/wp-content/uploads/2017/04/BA-CityFlyer-Banner.png
1580
3698
FlightDeckFriend.com
https://www.flightdeckfriend.com/wp-content/uploads/2017/05/FDF-Logo-2.png
FlightDeckFriend.com
2017-06-28 13:30:14
2017-07-03 16:57:24
BA CityFlyer Direct Entry Captains