Flybe Pilot Recruitment
Cadet, First Officer & Captain Jobs at Flybe
Last Recruitment Commenced: Ongoing for Captains
Currently Recruiting: No
Previously Recruited Low Hour Pilots: 

Yes


Trend: Positive
Location: United Kingdom 🇬🇧
Cadet Program: 

YES

 - MORE INFO HERE
"Flybe is the largest independent regional airline in Europe, based in Exeter, operating more UK domestic flights than any other airline. It flies 7 million passengers a year on 149 routes, from 62 destinations in 9 countries, connecting to long-haul hubs in Manchester, Birmingham, Paris, Dublin and Amsterdam. It is a member of the European Regions Airline Association. Flybe's parent company Flybe Group PLC (formerly known as Walker Aviation Limited) is listed on the London Stock Exchange.
The airline launched in 1979 as Jersey European Airways following the merger of Intra Airways and Express Air Services. In 1983 the airline was sold to Walker Steel Group, which also owned Spacegrand Aviation, and the two airlines were merged under the Jersey European name in 1985. Jersey European was renamed British European in 2000 (shortened to "BE"), and received its current name in 2002."
Pilot Bases:
Aberdeen
Belfast
Birmingham
Cardiff
Doncaster Sheffield
Edinburgh
Exeter
Glasgow
Manchester
Current Fleet:
54 x Dash 8 Q400
11 x E175
9 x E195
Destinations:
102 across the UK and Europe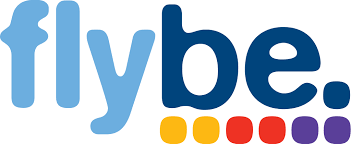 Founded:
1979
Salary:
Basic salary below does not include Flight Duty Pay.
First Officers: Starting salary of £29,000 – yearly incremental increases thereafter.
Captains: Salary £67,034, rising to £70,895 on 1st April 2018 – yearly incremental increases thereafter
Type Rating:
Bonded
Please note that we are not a recruitment agency – we bring you potential flight deck jobs of interest together into one place. If you have any queries about a specific role, you should contact the airline or agency directly. All job details were correct at the time of posting but may since have changed or been removed. We have no affiliation with Flybe – All information updated is from information obtained from the airline's website.