easyJet Pilot Recruitment
Latest Pilot Jobs
Applications have closed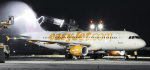 Website easyJet
easyJet are recruiting Non-Rated Direct Entry A320 Captains for their London Gatwick and Luton bases.
At easyJet we have a huge passion for flying and we keep this alive by bringing the latest technologies to the Flight Deck, flying to the greatest destinations in Europe and we surround ourselves with the best people. As a pilot working for easyJet you will have development opportunities, a variety of European bases and a safe, modern fleet all at your fingertips.
Luton and Gatwick bases are right amongst the action and you'll always feel a real buzz about the place. Operating at our Headquarters, Luton is home to a constant hive of activity, great people and on the way is a £110m soon-to-be refurbished airport. Gatwick is our largest operating base and training centre in Europe and there's always something to get involved in. We fly to 109 destinations from here and with over 2000 crew, you're sure to experience lots of variety and fun at work.
With more aircraft on the way to both bases, we have some amazing opportunities for Airbus 320, 330/340 rated Captains already based here, or for those thinking of a move to the Capital.
UK Captains
Permanent contract plus benefits
On Target Earnings*: £116,303
NTR Portugal Captains
Permanent contract
On Target Earnings*: €144,500
(moving to €147,255 in Feb 2018)
*(including basic salary, sector pay, bonus opportunity)
Option for easyJet to fund full Type Rating cost
Requirements of the Role:
Currently operating* as a Commercial Passenger Captain on A320 or A330/A340 family aircraft or 

Currently operating* as a Commercial Passenger Captain on aircraft above 30 Tonnes MTOW

Low Visibility Operations: Cat III Qualified (must be able to provide evidence)
Minimum 4,000 total flying hours
Minimum 1,000 total PIC hours on A320 or A330/A340 or 

Minimum 2,000 total PIC hours (of which 1,000 hours PIC are on aircraft above 30 Tonnes MTOW)

UK EASA Licence (must be held/converted prior to starting easyJet employment)
UK EASA Class 1 unrestricted medical (Must be willing and able to transfer medical records to UK CAA prior to easyJet employment)
Minimum ICAO Level 5 English with requirement to achieve Level 6 within six months of employment
Right to live and work in Europe with unrestricted access across the easyJet network
*Currently operating defined as operating within the last 12 months (at point of application).
Outline of easyJet Captain Selection Process:
Please only submit one application for your preferred base; any additional applications will be withdrawn. If you are flexible with your base choices, you will be able to discuss that with us at your interview.
First Stage: Applications reviewed
Second Stage: Successful applicants complete Non-Technical selection event in Gatwick or Luton (assessments held from July 2017 onwards)
Third Stage: Successful applicants complete Technical Simulator assessment in Gatwick or Burgess Hill
Fourth Stage: Complete online questionnaire followed by a final video interview
Offers of employment will be made following a full review of your progress through all selection events and our business requirements.
Applications are online.
https://www.flightdeckfriend.com/wp-content/uploads/2017/04/easyJet-Banner.png
1738
3704
https://www.flightdeckfriend.com/wp-content/uploads/2017/05/FDF-Logo-2.png
2017-10-03 06:30:05
2017-12-01 00:55:36
easyJet Non-Rated and Airbus Rated Direct Entry Captains