Jazeera Airways Pilot Recruitment
Latest Pilot Jobs
Applications have closed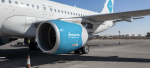 Website Jazeera Airways
Jazeera Airways are currently accepting applications for A320 Direct Entry Captains.
Minimum Requirements:
1. Hold ATPL issued by any ICAO contracting State
2. 52 years or less when joining
3. 5000 total flying hours on jets on which 3000 hrs are to be logged on jet aircraft with a maximum T/O weight of 30000 Kgs. or more
4. Minimum 2000 hrs as PIC of which 800 hrs on type
5. Background in training will be advantageous and;
6. Clearance certificate from civil aviation authority who issued the pilot license that the applicant had not been involved in any incident/accident.
Note: Crew without minimum experience on A320 should have minimum of 250Hrs. in glass cockpit aircraft
https://www.flightdeckfriend.com/wp-content/uploads/2017/04/Jazeera-Airways-Banner.png
1628
3566
FlightDeckFriend.com
https://www.flightdeckfriend.com/wp-content/uploads/2019/07/FDF-Logo-2.png
FlightDeckFriend.com
2017-06-11 12:55:05
2017-07-12 00:55:43
Jazeera Airways A320 Captains