Latest Pilot Jobs
SunExpress Pilot Recruitment
Applications have closed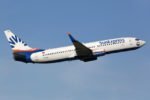 SunExpress
SunExpress require non-rated Captains for various bases across Turkey.
Minimum Requirements:
ATPL (A) license issued in accordance with JAR-FCL or ICAO standards
 Class 1 medical certificate issued in accordance with JAR-FCL 3, EASA Part-MED or ICAO standards
 Min 4000 flight hours' total experience
 Min 1500 flight hours on aircraft heavier than of 27000 kg MTOW
 Min 3 years' airline pilot experience (starting with type rating endorsement date)
 Min 500 hours active PIC experience (on aircraft with more than 19 seat capacity and heavier than 27000 kg MTOW)
 Min ICAO Level 4 English proficiency
 Valid B737 NG Type Rating is required for ICAO licensed pilots
Applications are online. See our SunExpress recruitment page here.
https://www.flightdeckfriend.com/wp-content/uploads/2017/06/Sun-Express-B737.jpg
565
848
https://www.flightdeckfriend.com/wp-content/uploads/2017/05/FDF-Logo-2.png
2017-06-10 09:00:47
2017-07-09 00:55:36
SunExpress Non-Rated Captains