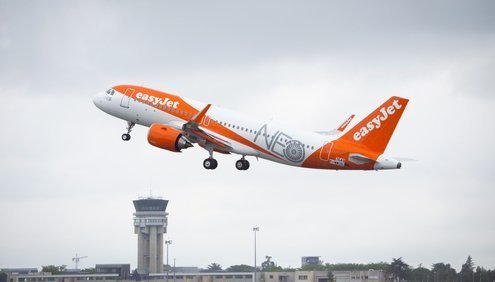 easyJet's First A320neo Delivery
On the 14th of June 2017, easyJet took delivery of it's first Airbus A320neo aircraft, which marked the airline's 300th Airbus delivery. With more than 5,000 orders received from 92 customers since its launch in 2010, the A320neo Family has captured some 60 percent share of the market.
easyJet has a further 99 A320neo and 30 A321neo aircraft on order and is currently operating a fleet of 247 A319/A320 (plus 1 A320neo) aircraft.
The list price for the A320/321neo's are as follows:
A320neo: $108m
A321neo: $127m
Carolyn McCall, easyJet CEO, said:
"The A320neo is a major step change for our fleet efficiency and will provide a cost per seat saving of up to 7% over the current A320, which itself has a cost saving benefit of up to 8% over the A319 and this benefit will enable easyJet to continue to offer our famous low fares helping to connect people across Europe for work and play.
"We strive to do this in the right way by reducing our carbon and noise impact on the environment and local communities. By using modern Airbus aircraft and flying them efficiently we have reduced the carbon impact of our flights by a third since 2000.
"With the addition of the A320neo and A321neo to the future easyJet fleet and with further planned efficiency improvements easyJet has now set itself a new, tougher carbon emissions target of 72 grams by 2022. This is a 10% reduction from today's performance and a 38% improvement from 2000.
"Since our first A320 family aircraft delivery in 2003, easyJet has grown to operate Europe's largest A320 Family fleet with 300 aircraft delivered.
"With 130 NEO aircraft on order we are also Europe's largest customer for this revolutionary new plane and really looking forward to operating the NEO and realising its cost, customer, carbon and noise benefits."
https://www.flightdeckfriend.com/wp-content/uploads/2017/06/easyJet-A320neo-Delivery.jpg
282
495
FlightDeckFriend.com
https://www.flightdeckfriend.com/wp-content/uploads/2021/01/FlightDeckFriend-Main-Logo.png
FlightDeckFriend.com
2017-06-15 17:30:56
2017-06-16 11:08:24
easyJet's First A320neo Delivery